Reviews and Accolades
SureCritic helps customers tell the true story of their experiences
– all the while making the process more transparent for everyone.
Here are some of the reviews our customers have shared about Lebanon Friendly Sunoco.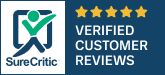 Click on the badge to comment on your Lebanon Friendly Auto Service experience.
---